On your stomach or on your back? Baby is so frail when he comes out of his intrauterine cocoon, and we don't always know how to do it. The first gestures are not innate! So how do you put baby down without taking risks? Precautions must be taken to put baby down safely, but what are they?
What position should baby sleep in?
Put your baby on his or her back at night and for all sleep times (including a short nap during the day). Indeed:
- the lying on your stomach may interfere with his breathing;
- lying on one's side is an unstable position, which makes it easy to roll over onto one's stomach.
However, do not use devices to support your baby on his back (e.g., rolled towel, pillow) as they may also interfere with breathing when your child is old enough to roll over on his own, do not force him to stay on his back.
Getting baby up and down gently
It's your first time with baby at bedtime and he's so fragile that you don't know how to "pull" him out of his little cocoon bed, any more than you know how to "untie" him from your loving arms to put him to bed!
To lift him when he is lying on his back
- Run your left hand down her back, under her buttocks.
- Slide your right hand under his neck and head and gently lift him up.
- Before the age of 2 months, your toddler has no control over his neck or muscles, so his body and head must be perfectly supported so that they do not wobble.
- Swing his buttocks over your left hand and, with your right hand, bring him into the bend of your elbow... or over your shoulder, his head nestled in the palm of your right hand.
To lay him on his back again
- With your left hand, support his head. With your right hand, support his lower back.
- Lay him down slowly. Release your right hand as his upper back touches the mattress, your left hand continuing to support his head
- Gently lower her head by guiding it with both hands, so that she does not "fall" suddenly.
Thanks to the raised baby bed Lit'belluleAll these gestures are made easier! No false movements, no risk of hurting baby without wanting to. The high position during the first months has been designed for the well-being of baby and parents
What bedding should I use for a baby?
When choosing and installing furniture for your baby's room, there are several things to keep in mind.
a/ Invest in a cradleIs it necessary ?
No, not really, because you won't be using it for very long. In fact, as soon as your baby starts to roll over, around 4 monthsIt is recommended to install it in a bed with bars, to prevent any risk of falling. The cradle remains a pleasure to buy!
b/ Choose a slatted bed (imperative until the age of 2 years) with a slatted bed base (it reduces the presence of dust mites and therefore the risks of respiratory allergies)
There are different types of beds with bars: classic bed with bars 60X120, evolving bed with bars 70X140 with or without adjustable slats The Lit'bellule evolving baby bed is the bed with bars that allows baby to sleep in a real cocoon thanks to its high and rounded shapes.
Unlike a child or an adult, a baby needs a soft sleeping comfort: the foam weight is between 18 to 38 kg/m3 against 35 to 55 kg/m3 for an adult. The dimensions of the mattress must be adapted to those of the bed, to avoid any risk of suffocation.
For a child's bed, the dimensions of a mattress are 60x120 cm or 70x140 cm. The thickness must be between 12 and 15 cm in accordance with NF safety standards. It must also comply with the EN 597-1 fire protection standard.
In latex, in memory foam, with a natural mattress core (enriched with bamboo fibre, for example), in organic cotton... there are several quality materials. The thickness of the mattress guarantees you a long-lasting comfort. You should count about 12 cm for a quality product. Also the air must circulate in the mattress to allow a good ventilation and breathing and to regulate at best the temperature of Baby. Anti-bacterial and anti-mite processes, natural fabrics and foams as well as removable mattresses (the best for easy washing) and top-of-the-range products such as cashmere fabric are appreciated by mothers. The French manufacture as well as eco-designed products respecting standards such as CERTIPUR® and OEKOTEX®, are commitments of quality.
Discover our natural mattresses made in France
How to best set up your child for the night?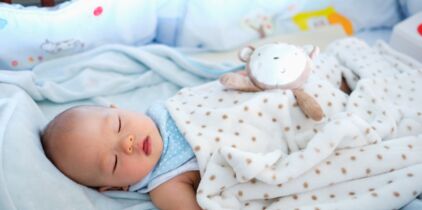 To make sure your baby sleeps comfortably
- prefer an overpyjama or a sleeping bag (or "turbulette"), well adapted to his size.
- Avoid multiple layers of clothing, so that your child does not get too hot. To check if he is comfortable, place your hand on the back of his neck: you should not feel any sweat under your fingers.
- Do not use necklaces, chains or cords with pacifiers. These items may interfere with your child's breathing while he or she sleeps.
- If you use a pacifier, offer it to your baby for naps and/or at night, at bedtime. In any case, do not force your child to take the pacifier, and do not put it in his mouth when he is sleeping.
- Never give your baby sleeping pills: they are dangerous and addictive. Similarly, do not get your child used to falling asleep with a bottle or pacifier coated with sugar solution. This practice could encourage the appearance of dental caries.
Objects in the bed
To prevent the baby from burying itself and to avoid obstructing its breathing, do not leave the baby in the no soft objects in the bed. Thus pillows, duvets, quilts, sheepskins, bulky stuffed animals that can cover the child's face should be avoided. A bumper pad is not recommended either. However, if you wish to use one, it must be thin, firm, well attached to the bed and not stuffed, so that baby does not sink into it.
What atmosphere should your child sleep in?
Opt for naps in natural light and nighttime sleep in the dark. This helps your baby to develop a different rhythm during the day and night. The room should also be kept at a temperature of 18 to 19 °Cand be aired every day.
Also:
you should know that passive smoking is very harmful to both the fetus and the baby. Also, do not smoke or allow anyone to smoke around your child. In particular, it is preferable to entrust your child to a non-smoker;
keep your pet out of the baby's room. Indeed, he could lie down in the cradle near his face, with a risk of suffocation.
What prevention for cot death?
- In addition to the back sleeping mentioned, it is also recommended to put the baby to sleep on a firm mattress that fits the size of the bed.
- Set the room temperature around 18-19 °C.
- Do not use duvets or blankets in favour of an over-sleeping bag, a sleeping bag or a sleeping bag. Indeed, although babies have multiple defence mechanisms against the cold, they are very poor at fighting heat. Co-sleeping is also to be avoided!
-Final tip ventilate his room for at least twenty minutes every day.
Since the 1990s, the number of sudden infant deaths has been reduced by more than half thanks to sleeping advice. However, the number of deaths has unfortunately remained stable in recent years. Hence the importance of observing but also regularly reminding all these preventive measures.
Sleep is very important in a baby's life. Sleeping well allows his nervous system to build and perfect itself, to recover from nervous fatigue and to strengthen his immunity against germs.