Night nanny, what you need to know
Fatigue, exhaustion and even parental burnout, these ailments threaten any parent whose child does not sleep properly. Do you dream of a good night's sleep that would allow you to recover and be fresh and ready the next day to take care of your baby or go to work? What if the solution was to hire a night nanny?
What is a night nurse?
Let's start with what a night nanny is not: a baby sitter. On the contrary, she is an early childhood professional, childcare assistant or maternal assistant. She performs her missions at night, with families, in addition to her activity or primarily - in this case she often also wears the hat of a coach or a sleep consultant.
The nurse puts her experience and skills at the service of often idle parents to offer them a moment of respite allowing them to rest. She also gives them valuable advice to help baby fall asleep or shows them the right techniques to reassure him.
When to call a night nurse?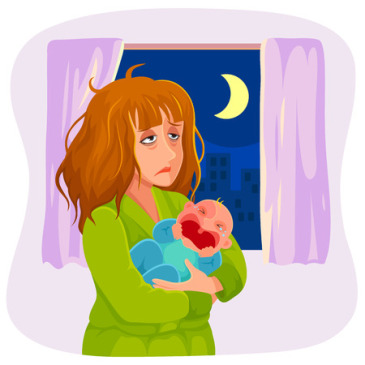 The profiles of people calling on a night nurse are varied. They can be mothers leaving maternity; poor parents in the face of their baby's short and fragmented nights; parents of twins totally underwater; dads in shift work schedules, etc. Sometimes even loved ones offer the night services of a nurse as a birth gift!
When the evening becomes a source of apprehension and tension, there is no shame in being helped, especially when the family does not live nearby to relieve the couple. Using a nanny at night for twins or for a baby not sleeping through the night is one of the ways to get essential support and talk about your difficulties in a reassuring environment. It can be punctual or spread over several evenings, while the situation improves. There are no rules.
How to find a nanny at home in the evening?
Parents who need to find a night nanny have several solutions. First, they can trust their acquaintances or specialized groups on social networks. Word of mouth works very well.
On the internet, nanny / mother contact platforms have also been developed. They generally offer the guarantee of verified profiles and certified qualifications.
Otherwise, it remains to obtain information from the maternal assistants established in the commune; nursery nurses or simply from the town hall.
How is a night with a night nanny?
In the bedroom or in the living room depending on the space available, the nurse takes care of the infant during the night. She gives him the bottle and manages the possible awakenings and tears, while taking care not to replace the mother in this night closed camera: certain tender gestures are carefully avoided so that each one retains its role.
This service is not incompatible with breastfeeding: the young mother can choose to express milk in anticipation of custody or ask that the baby be brought to her at the time of feeding.
Due to its cost (from 10 € per hour to 200 € per night), the use of a night nanny is not within everyone's reach, even if CAF assistance can be paid under certain conditions. It is also controversial because the bond of attachment between parents and their child is also woven at night. On this point, everyone will form their opinion ...
For further :
-  The passage of baby in his room