Your little treasure will soon be born! You are already thinking about his future baby room and you can't wait to start fitting it out ..
Your apartment is not expandable, you have only one bedroom or the second bedroom is not the most spacious ... but moving is out of the question! What solutions are available to you?
Follow our advice to create a nice little baby room.
Opt for a complete baby room that can be upgraded
It is the perfect furniture for a small baby room. The complete evolving baby room is very clever, it gathers a baby bed, a baby storage unit and sometimes even a changing table while being very compact.
For example the complete evolutionary baby room Bed'bellule which allows you to have a complete baby room on 1,5 m2 on the ground. All the storage furniture and the changing table are located under the raised baby bed for greater comfort (no more backache). An ultra-functional but also design solution!
Choose a chest of drawers instead of a baby wardrobe
In a small baby's room, avoid installing a cupboard, which is too large and could darken the space. Instead, choose a baby dresser or a small wardrobe designed to accompany baby in his growth.
Just as practical as a wardrobe, the baby chest of drawers will allow you to store a large number of items. Clothes, toys or bed linen, everything fits in this small piece of furniture.
Opt for wall-mounted storage
To complete the storage spaces, you can dress the walls with shelves. They will be very useful to store some toys and decorative knick-knacks.
Removable or ephemeral solutions to isolate the baby corner in the parents' room
In order to preserve the intimacy of each one, baby as parents, separate the corners of the room. You can isolate the two corners by installing curtains, screens, or Japanese panels with discreet light structures.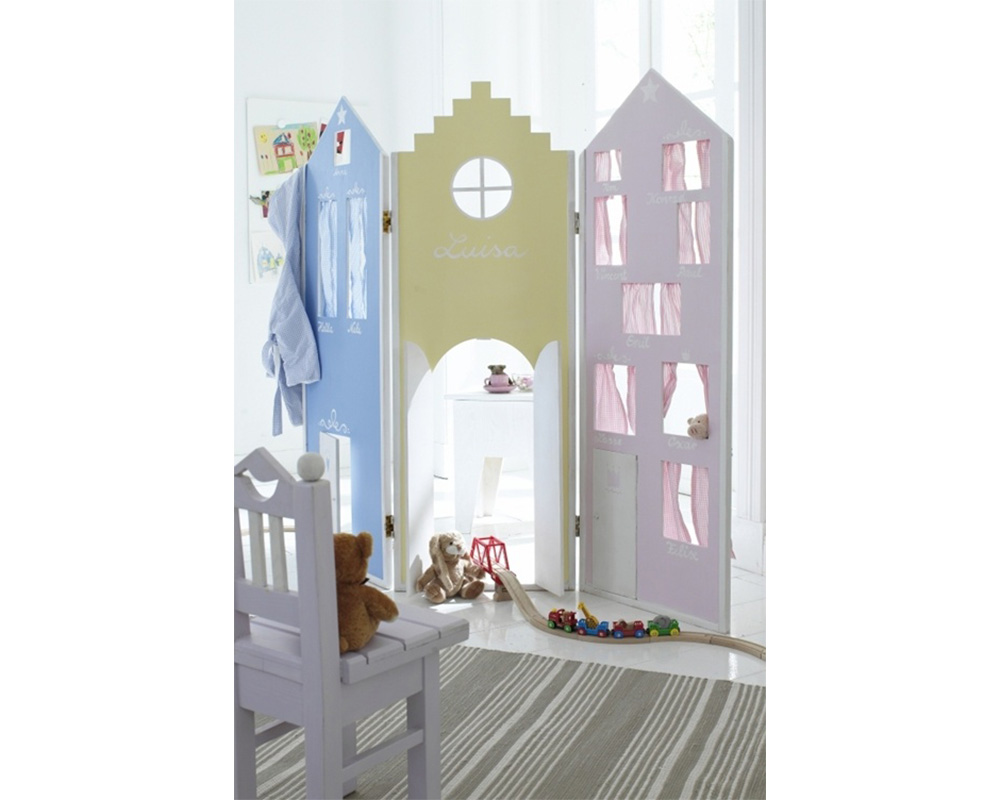 For an even more subtle separation, we even recommend visual solutions such as paint or stickers. By painting the baby corner in a different colour from the rest of the room, for example, the illusion of separate spaces is perfect. You can also imagine installing string lights suspended between the two corners to delimit them in a playful way.
Baby shares room with sibling
If you don't have room for a separate room for your children, you can find baby furniture that coordinates with your older child's room so that they can share the room in style. For example, you can find the Lit'bellule complete evolutionary baby room and the teenage bed Dream.
And what about decorating the baby's room?
To decorate the walls of the baby's room, we advise you to choose light colours.
And for the furniture we recommend white, beige, light grey mixed with wood to avoid a monochrome look.
Discover also the white baby roomand our guide to the decoration of the baby's room.